Nord User Forum
This 'unofficial' Forum is dedicated to the Clavia Nord Keyboards, including the Nord Stage, Nord Electro and Nord Piano. Discuss any issues around Nord's keyboards, share your favorite patches, samples, and music. We are not affiliated with Clavia!
My very first one :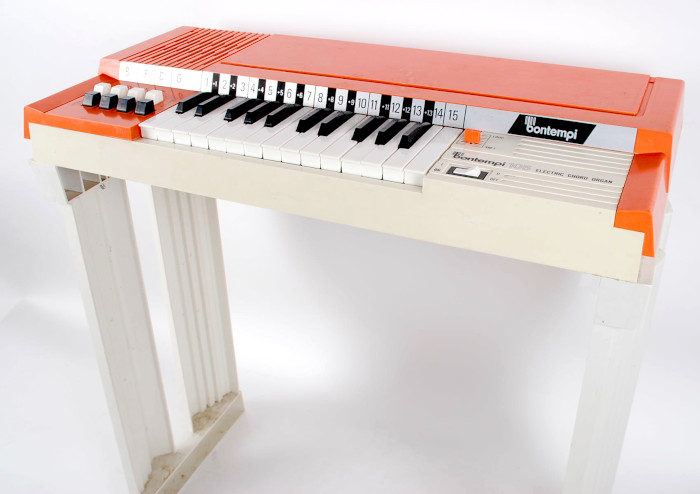 Then :
Roland alpha Juno 1
Yamaha SY 22
Roland Sound canvas
Yamaha EX7
Roland XV-5050
Nord Piano 4
Posts: 115
Joined: 28 Jun 2020, 11:31
---
Re: Your Lifetime Of Keyboards



Sponsor
---
Wow time to think back now to 1984 when i purchased my first keyboard.
Korg Poly 61
Ensoniq SQ 80
Korg M1
Korg T1
Yamaha Tyros 5
Korg m50
Roland JDXI
Yamaha DX7 IID
Roland Jupiter 80
Korg Krome
Yamaha Genos
nord electro 5 HP
nord stage 3 HP
Korg Kronos 2 88
Roland Fantom 7
nord stage 3 compact
Posts: 25
Joined: 03 Jan 2019, 16:00
Country:
Has thanked: 0 time
Been thanked: 4 times
Your Nord Gear #1: Nord Stage 3
Your Nord Gear #2: Other Brand
---
In the order I purchased them:

Farfisa Compact Deluxe Combo Organ
Casiotone 202
Yamaha CP70B Electric Grand Piano
Sequential Circuits Pro One Synthesizer
Roland Juno 60
Roland EP 7 Digital Piano
Roland JV1010 Synth Module
Yamaha P120 Digital Piano
Korg Triton Extreme 76 Key
Nord Stage 3 Compact
Studiologic SL73 Studio Controller

I am lucky enough to still own all of them.
Posts: 11
Joined: 30 Sep 2019, 02:50
Country:
Has thanked: 0 time
Been thanked: 4 times
Your Nord Gear #1: Nord Stage 3
---
Hammond C3 and Leslie 122 (Club-owned, but I played it for 3 nights a week for 3 years)
Esty Harmonium (Borrowed it from a church's storeroom, yanked it out of it's furniture cabinet and 'pumped' it with my Mom's canister vacuum cleaner. It sounded like God's own harmonica..., a couple of years ago I bought it from the museum that had acquired it from the church, still own it)
Farfisa Combo Compact and a Silvertone Amp
Hammond M3 and 145 Leslie
Wurlitzer 200
Hammond B3 and 147 Leslie (Moved to a custom-built "chop" case after the factory furniture was damaged falling down stairs; still own)
2 Yamaha DX-7s and a Peavy Keyboard amp
Korg X3
Hammond XB-2 and Leslie 302
Roland RD 500
Roland RD 600 (still own)
Roland JV-1010 Synth module (still own)
Yamaha S90es (still own)
Yamaha Motif Rack es (still own)
Hammond XK-3c/XKL-3 and Leslie 3300 (still own)
Hammond A-100 and Leslie 145 (still own)
Privia PX3s (still own)
Hammond C-3 and Leslie 21H (still own)
Hammond XK-5/XKL-5 (still own and use with the Leslie 3300. My current performance organ)
Nord Piano 2 and Traynor K4 amp (still own the amp)
Yamaha AvantGrand N2 (still own)
Nord Stage 2ex 88
Hammond Skx
Nord Stage 3 Compact and CPS Spacestation XL amp (still own the amp)
Nord Piano 5 (still own and use with the Spacestation XL. My current performance stage piano)

Notes:
All the synths and pianos (except the AvantGrand) were an frustrating search for the right stage piano; I'm very happy with the Piano 5.
The DX7s and the Hammond X-series were a search for a more portable alternative to my B-3; I'm very happy with the dual manual XK-5.
Last edited by
wtibbit
on 28 Apr 2022, 07:35, edited 1 time in total.
---
Donator
Posts: 113
Joined: 05 Dec 2016, 01:22
Location: DFW Texas
---
I've been a lazy- and worse, thankless- poster here. Shame on me because I've trolled so much useful info and advice over the years. So to start, a late but sincere apology and blanket thank-you to the much more thoughtful players and posters on this forum.
This thread got me thinking of all the great and goofy gear I've used since 1967.
My first organ was my mother's Thomas home spinet POS. When my older brother Tom switched from organ to electric bass at 13 years old, he also stopped being a pain in the ass. Instead of antagonizing me, he taught me "96 Tears" and "Midnight Hour" on the organ so I could join his first band, "The State of Mind". Tom and I have gotten along great ever since: all thanks to music. After being taught those two very basic (but more than 3 chords each) tunes, I figured out the rest of our set list by ear, at 12 years-old. To this day I regret not learning to read music. I can follow any chord chart just fine, but the "ants on the page" elude me still. Am I not a "real" musician? Depends on the gig I suppose.
I borrowed a Farfisa Compact for early rehearsals. But its owner was in a rival band; and our first gig was a church-sponsored Battle of the Bands. I needed one of my own. Mom got sold a Rheem Mark VII, my first portable organ. We lost that battle but learned an important lesson: a lot of girls come to see bands play…
I played the Rheem for maybe two years before trading up to a used Farfisa Compact. My first amp was a Gibson Kalamazoo Bass 30. At first I set it up in front of me, and wondered why I couldn't hear myself over the drums, etc.! I can't imagine what we sounded like out front, no monitors, vocal mics plugged into the amps along with the instruments. Mom was proud when we landed gigs in actual nightclubs, so she and other mothers initially dropped us off and picked us up at gigs all that summer of '68. Dad, having heard a few rehearsals, could not believe we were getting paid to play. But he never again had to shell out an allowance, so he let us proceed. We often made $25 a night each, eventually playing five nights a week, four 40 minute sets with 15 minute breaks. That's a lot of music. In terms of cost of living adjustments, the pay for regional musicians hasn't gone up much. Now the standard rate is between $100 and $200 per night each. But unlike back then, now you have to be able to play! There weren't nearly as many musicians playing rock & roll in the late 60s as there would be ten years later. We soon had plenty of money to buy instruments on the installment plan, and whole ounces of Mexican marijuana for cash. Those late 60s smoke-filled, low ceilinged night clubs somehow felt like heaven, albeit with red velvet walls. We often became well protected young pals of club-owner mobsters. Dangerous men, they could be very warm and funny as long as you didn't mess around with their mistresses and wives. A couple of previous horn-dog old pals still walk with a limp…
Upon first hearing "Green Onions" on a transistor radio, I didn't know what that organ was, I only knew I wanted one. What I wanted, of course, was a Hammond B3 and Leslie.
Mom came through again, talked Dad into loaning me the deposit for a Hammond Mini-B and, just as important, a Leslie 122. My second brand-new instrument was a Hohner Clavinet D6, more on account of NRBQ's Terry Adams' guitar-like virtuosity than for the more popular funk stuff. I miss the real Clavinet still, but will never again carry anything heavier than a Nord Stage Compact.
Gigging steadily through high school in the stinky red rooms where they let any long-haired goofball drink for free, I added a Rhodes 88 Suitcase. Being a moron, I thought bigger must be better! I don't miss that particular Rhodes at all. I played the Rhodes and Clavinet through two Acoustic guitar amps with 4 10's each. Clean? Yes. Loud? Oof!
I sold those amps and the Rhodes, bought a Fender Twin Reverb for the Clavinet: much better.
I finally ditched the Mini-B and bought my first Hammond B3 from a huge musical instrument consignment store. I didn't even try any of them. I chose mine from among nine or ten other B3s because it was closest to the store's front door! $900 with no dollies. That beautiful old B3 was stock ebony black, I'm guessing mid-60s. And it turned out to be a fantastic sounding Hammond, the best one I've ever played. I bought dollies, and eventually had its wobbly road-worn front legs firmly bolted on. I would occasionally stand on top of that B3 and play brief cluster-****y solos with my right foot. Then I stopped drinking...
Eventual samplers aside, I was not, still am not, too big on synths (Stevie W. early Todd R. and a few others excepted). Cover bands were expected to bleat out some of those sounds back in the day. Instead of the popular Mini-Moog, I got sold a Steiner Parker thing. Its oscillators went out of tune in cold weather; and I live in New England…
Eventually I pared down my set-up to just the Hammond B3 and Clavinet. Soon after they became available I added a "portable" Yamaha (CP80?) grand piano. Except for its action, I do not miss it either.
I regret selling that old black B3 though. It's the only instrument I've ever been sentimental about. Its new owner painted big white spots on it so it looked like a big, sad oblong cow. Damn! But I'd moved to New York City, and needed money and portability. I used a Roland JX-3P for a few months, but soon upgraded to a Yamaha DX-7 played through a small Roland Jazz Chorus 10". Was never satisfied with my sound back then. And just imagine trying to get to gigs in NYC carrying the seemingly lead-lined DX7 in taxis. It was pure hell. More often though, gigs back then were on the road with either a back-line Hammond or, in the case of a year spent touring with Jr. Walker & The All Stars, his chopped B3. Chopped indeed: into four separate boxes, with wires everywhere. But it fit in the bus's undercarriage luggage compartment. That organ's finish was a smoke-yellowed silver sparkle vinyl: very cool. And Junior had neon lights installed beneath its manuals, Great was red, Swell was green. My face must've looked like a freaky Christmas Tree when the house lights went down. But I was cute back then, and women did not seem to mind.
I got sick on the road, with severe stomach problems. Based in Southern New England again, a sickly road hog, I played a Korg CX-3 for a couple of years. If you've read this far, here's where it gets more interesting. In Atlanta with Roomful of Blues, my previously undiagnosed Crohns disease caused peritonitis, necessitating emergency surgery. It was touch and go. I was very lucky to survive (RIP Eagles' Glenn Frye, who did not survive Crohns surgery). They'd had to blast me with antibiotics which turned out to be otto-toxic: I eventually lost most of my hearing in both ears for ten long quiet years. No more gigs? Heck, no more "normal" conversations. I used useless hearing aids, and painted funky furniture for my sister's antique shop to make the rent. At home I played a Wurlitzer 200 EP turned-up too loud. And I was, except for family, a great girlfriend and many old pals, a sad shadow of my former self, a ghost at holiday dinner tables.
The happy ending: in 2002 I had Cochlear Implant surgery. Many CI users back then couldn't appreciate music at all, but I was determined to try. After two years of frustration and practice, relearning hard to discern distorted harmonies, taking aural baby steps, I was able to start playing with understanding and patient musician pals. I used a Yamaha Motif 73, with a stinky-sounding Roland Drawbar fake Hammond MIDI thing. I won't even bother to look up its name. Ugh.
Being so successful at regaining music with the cochlear implant, I've traveled all over the world lecturing and demonstrating what it's like at symposiums and universities.
About ten years ago, I finally FINALLY got around to buying a mint used Nord Electro 3 73, two QSC K10s and an Allen-Heath Zed 6 mixer. It was fantastic to once again access decent Hammond, Clavinet, Wurly, and passable pianos in a lightweight package. Now my heaviest piece of gear is my overstuffed Taylor cord & gear bag, and a drummer's large hardware canvas tote for a table stand and custom bench (added a folding backrest). My aching back thanks God and Nord. I upgraded to an Electro 5 73 maybe five years ago, and now keep it as my home-based spare. Just before the pandemic I bought a mint used Nord Stage 3. (otherwise I tend to buy older versions of Nords after new ones come out). I've griped about the Stage 3 Hammond and Clavs not being as versatile or authentic-sounding as even the earlier Electros. BUT, I've grown to love my Nord Stage 3. I'll post some pics of the customization of its knobs sometime. I switched-out many of the black ones for different colored metal knobs, red for overdrive, blue for effects, chicken heads for master volume etc. It's easier in some of the heavenly, dark shithole dives I play, to instantly differentiate among knobs' hues visually. And I enjoy having a one-of-a-kind keyboard among so many same old red beasts out there. As I did with my first Electro 3. I used a white oil-based paint pen to change the number 3 on the Stage into an 8. I don't run into too many Nord-savvy keyboard players at gigs, but when I do the looks on their faces are pretty funny. "Wait, a Nord Stage 8? WTF?"
Well, although I nearly never post, I've now blurted out a goddam novella. Sorry. Thanks if you've found it at all entertaining. Protect your hearing, pals and strangers. Wear earplugs: insert them half an hour before you play so your brain can adjust. Avoid high doses of intravenous Gentamicin if possible (though they've got the dosing down now). Tell that damn guitarist to turn down! And whatever you do, keep on making music from the heart with whatever gear you like best. It can't save you from the inevitable heartaches of the music business and life, but it lessens the pain (for as long as the song lasts, anyway). Most of you pros know that by now.
Wishing you all good luck and great success. Thanks again for all the tips.
Richard Reed
reedmnweep@AOL.com
Providence RI, USA
---
Posts: 20
Joined: 01 Jan 2018, 08:54
---
Quite the adventure, sir. Thank you for sharing it with us!
Mike from Central NJ, USA
Tools: Ten fingers, two feet, middle-age brain, questionable judgement and taste
Nords: Stage 2EX 76 HP, Electro 6D 73
Posts: 847
Joined: 08 Nov 2011, 21:57
Location: United States
---
Richard,

great story, I envy you somehow. Interesting gear you had under your fingers and even feet!!

Cheers from Germany
| nord electro 5D 61 and korg X50 on k&m 18880 or 18950 stand | iPad mini 5 with Set List Maker | phonic AM120 submixer |
---

... and I loved these of my former stuff: nord electro 3, Roland VR-760, Fatar Studio 1100, korg 01/W, Roland U-20
Donator
Posts: 750
Joined: 17 Feb 2015, 11:57
Location: Where there is friendship, love and music ...
---
I've owned at least one different keyboard for every decade since the late 60's:
~1969: Ace Tone Top-1 Combo Organ (Sold)
~1972: Elka Rhapsody 610 String Machine (Sold)
~1970's Farfisa Compact VIP 233 (Sold)
~1982: Korg Poly 61 synthesizer (Sold)
~1986: Ensoniq ESQ-1 (Still own)
~1996: Alesis QS8 (Given to me in 2005, Still own)
~1998: Ensoniq ZR-76 (Gave away)
~2001: Yamaha Motif 6 (Still own)
~2018: Roland FA-07 (Like it, still own)
~2019: Casio CT-X5000 (Still own)
02/2023: Nord Stage 3 Compact (Love it!)

Posts: 2
Joined: 06 Mar 2023, 18:58
Location: Near Charlotte, NC
---
---
Return to Your Music & Keyboard Rig
Who is online
Users browsing this forum: No registered users and 0 guests